General Character InformationName
Flynn Argall
Gender
Male
Age
Twenty-eight
Sexuality
Heterosexual
Species
Human
Class
Enforcer
Character Appearance Base Appearance
Tall, lanky disposition highlighted by the sinewy frame of his build, allowing him to stand at a respectable six-foot in height. Light olive skin that speaks vaguely of heritage, yet primarily of the tan achieved by bathing in the glistening, omnipresent Utopian sunshine. In figurative contrast, his eyes, features, and expressions are as deep dark and cold as the desert nights. A gaze can be seen as a glower, and a smile as a scowl. His ragged head of hair stands a wavy mess, the only care of it taken by the passing breezes which style it into a tousled articulation. Though primarily dressed in typical business attire, Flynn often tosses a draping, thin black coat over his body which stretches to his ankles.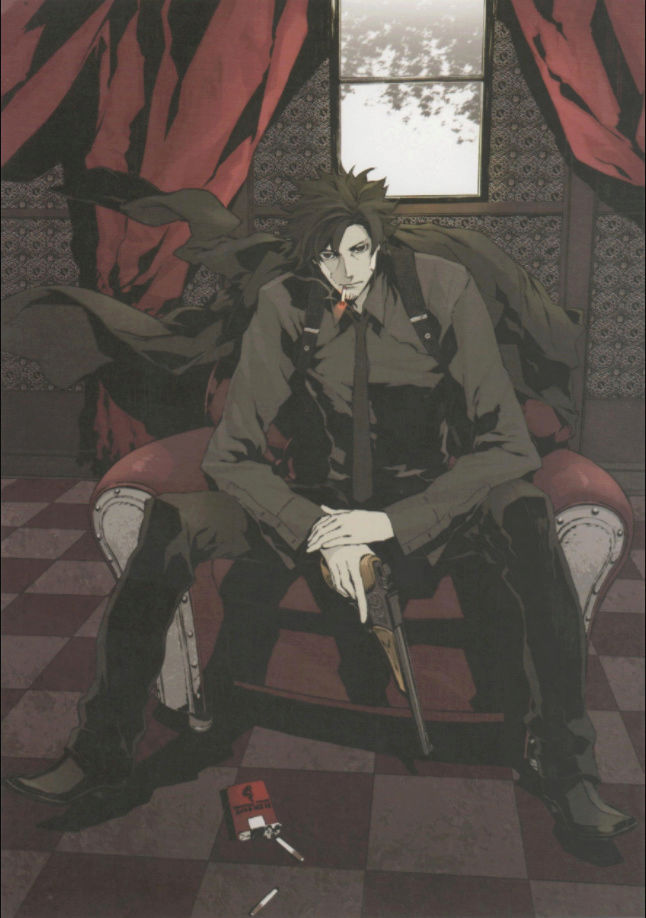 Height
6'0
Personality and Traits
Personality
Definitely calculative, definitely blasé. Flynn Argall is a man of the horizon, in which the sun sets over his mask of a fool and the moon rises across his blazing soul. As an Enforcer, Flynn has been tasked with overseeing and defending the innocent, as well as preserving peace. From the outside, he appears utterly incompetent-- only achieving the barest minimum for what could be considered the duty of an official Enforcer. His voice is calm and without worry even in the most trying of times and his capacity for urgency is nil. After any conversation, one might be left with the impression of an empty man who makes little effort to improve. In perfect contrast, Flynn has well placed his actions and context. The words he speaks shimmer with extensive thought placed into even the tone of his voice and every word; a sharp degree of intelligence that shapes his speech. Despite the appearance of an incapable Enforcer, Flynn Argall remains a considerable talent for relative and geometrical physics, which he laces into every step of his stride.
Hobbies
Whittling
Smoking
Cooking
Interests
Intellectual non-humans
Utopia
Exploration
Dislikes
Arrogance
White Knights
Cats
Skills
Geometrical Physics: A master in calculative physics and foresight regarding geometrical presence. His talent for angle trajectory and physics-based capacity are at the highest level
Hand to hand combat: Alongside the extensive years of training gone through during the period of entering the ranks of the Enforcers, Flynn has two decades of hand to hand combat experience under his belt through both street style and professional style.
Extensive combat experience: As a seasoned Enforcer, Flynn is savvy to a vast variety of magicks and fighting styles used throughout the world and well understands their capabilities to a basic degree.
Flaws
Flynn has no magic of any kind as things stand
Easily makes enemies and ignores positive opportunities due to his uncaring demeanor
Quick to abandon a situation and cut losses, even if it requires sacrifice
Poor teamwork skills
Family
Family
Unrelated by blood, but a young man and his twin sister see Flynn as something like an uncle.
Alexander and Relle, both nineteen years of age.
Partner
Olive Enndimion (Deceased)
Children
N/A
Extras
History
After losing his long term fiancé to the hand of a heinous criminal, Flynn Argall took upon the mantle of law enforcement to make sure nothing like his terrible loss happens again. He sustained through the seemingly endless years of required training and education to achieve his goal, but he managed to do so in capable time. Although implied to have much more detail, Flynn often refuses to speak of the circumstances surrounding Olive and gives the aforementioned reasoning when asked. He is often seen with a picture of his beloved around Utopia.
RP paragraph
"Never would I ever.. Order one of the salads from the office cafeteria"
spoke Enforcer: Flynn Argall as he polished his newly sewn brass coat buttons. The man lie sprawled out across a makeshift bed of two chairs, puffing a cigarette. He dropped his hand to the cement close beneath him, enjoying the shiver of cold stone against warm skin.
"Argall, what the hell.."
spoke a seemingly defeated voice. The woman beside him sat normally on her own chair with legs crossed and hands massaging her jaw in frustration.
"What? They have kale""Flynn""It tastes like shit. Have you tried kale, Inquisitor Ginni? Do yourself a favor and--""If you do not get up off the floor, you'll be tasting brick quick and in a hurry. I'm sure it'll taste better"
his superior officer responded, her anxiety plainly obvious. Debating a response like
"I'm not even on the floor. I'm on these chairs"
, he decided against it and began to rise to his feet. Funds were low this month and a broken jaw costed more than he could afford.
"Do you have your statement?"
Inquisitor Ginni inquired for the third time that afternoon. Nodding, Flynn repeated his orders to monitor the main square for the third time that afternoon.
"I have to check up on Aldmeiyer. Can I trust you not to slack off and actually perform your job this afternoon Enforcer Argall? Please?"
She spoke with an obvious distaste in her tone, gathering his files and replacing the plastic chair back under its table slot and turned to face the director portal.
Flynn waved her off with a physical gesture, which earned a look of tired aggravation. He was well aware the woman had a lot on her plate to deal with as of late.
"Of course, Inquisitor. You've got nothing to worry about. Tell the new guy I said hello?"
With a soft sigh of what was either annoyance or relief at having an excuse to take leave, Inquisitor Ginni strode toward the director Portal which lead to the primary office of law enforcement. The jagged marks on her collar and breast glowed softly as she approached the shimmering gateway, and blazed openly for just the moment the traversed through.
With a mutual glance of parting, Flynn Argall returned his focus to the single man across the main square. His body covered in dark exercise clothing and hooded, his body seemed tense even from this distance, and his feet were angled as if he wanted to stand. He had been glancing over at various stands for over an hour now while constantly changing his sitting stance as if never comfortable.
To a common citizen, he appeared a typical gentleman enjoying a stroll. To an Enforcer, he might as well have wore a sign asking to be questioned. Stuffing his hands in his pockets in a casual gesture of comfort, Flynn began a slow, non-threatening stroll in the hooded man's direction. With a hand grasping the handle of his Contender, Flynn vowed to keep these people safe.